Review by Susannah Marks
9 March 2017
I took the children to Kids' Weekend at the Adelaide Writers' Week on Sunday and they had a blast. There was plenty to see and do and it's such a great location with all those lovely shady trees, bunting strung up everywhere and books galore.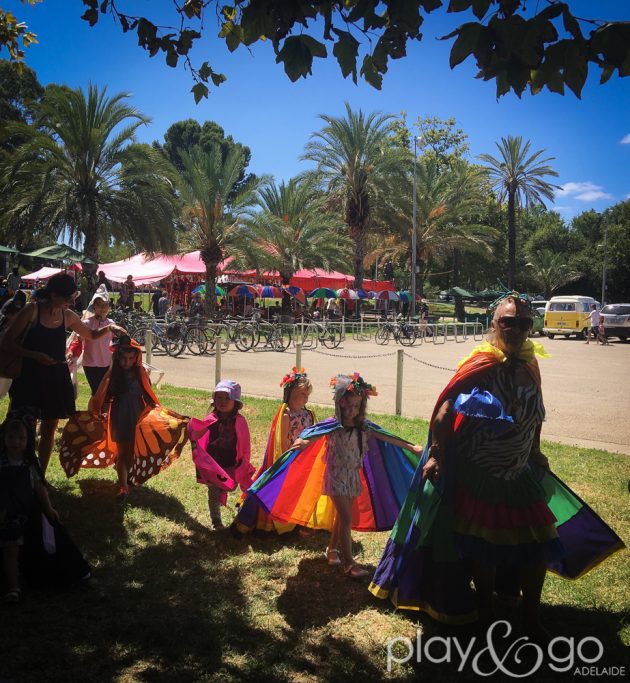 Nylon Zoo
We missed out on getting to the Nylon Zoo – though to be fair I think it was probably better for those aged 6 or 7 and under than for the older kids. It looked a lot of fun though, dressing up and traipsing about the garden. The costumes were so bright and colourful and many had wings to flap or capes to swirl. Everyone seemed to be having a great time.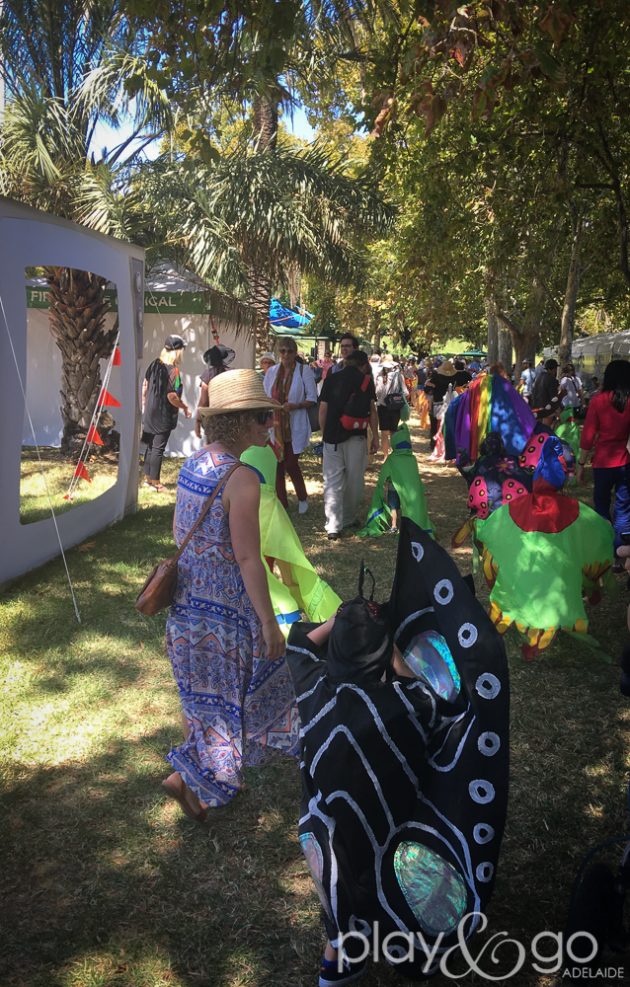 Nest Studio Workshops
My children did get spaces at one of Nest Studio's workshops and made risograph zines. We had never seen this done before and it was a really fun process – and something they've been talking about ever since.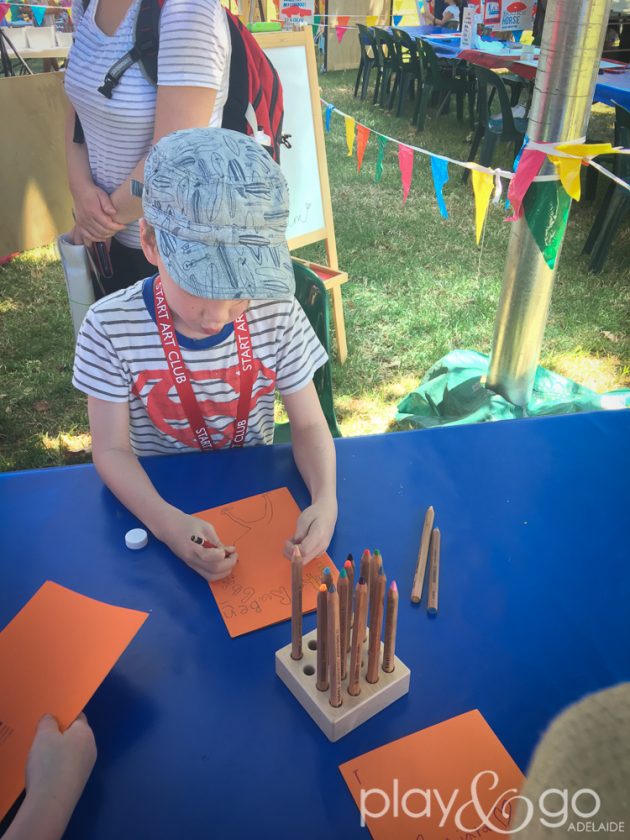 Making risograph zines
Each child got to pick a word out of a bowl at random and then they got their creative juices flowing and drew two little pictures relating to the word. They then decorated a cover for their book and then waited while the printing process – and the very patient helpers – did the magic.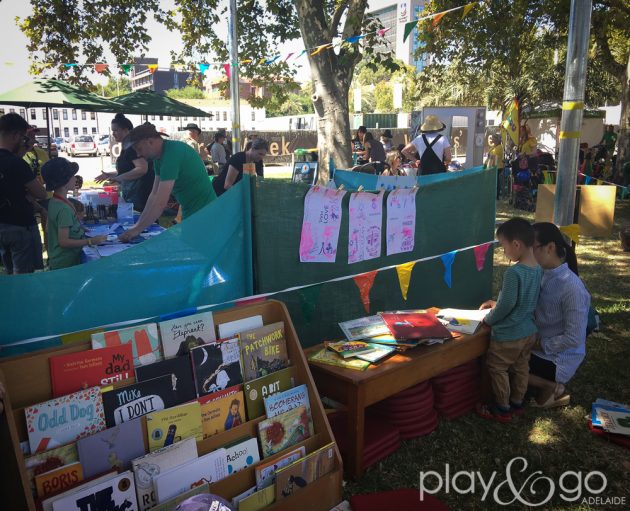 Little library and delicious ice blocks
We sat under the trees on comfy cushions and read books while we waited. Right next to the Nest Studio workshop there was a bookcase with a selection of children's books to sit and enjoy with your little people. We had a great time discovering some new authors and reading together. We also enjoyed some delicious ice blocks – choc banana was declared the winner on the day.
Meanwhile, each child's drawings were collated and then printed with two colours of ink – pink and blue – that were superimposed on each other to form one combined image. All the children's images were then turned into the pages of the book, so each child got to take home a copy of everyone else's drawings.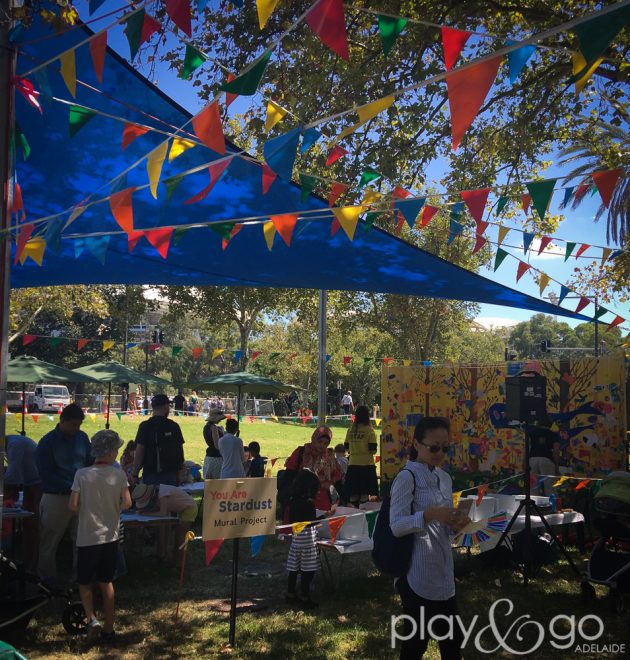 It was great to see them involved in such a hands-on activity and they loved seeing the finished product and getting to take home their very own 'book' which had one of their drawings printed in it.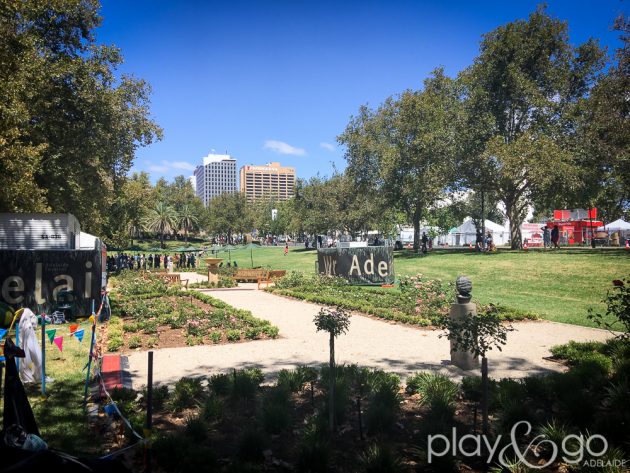 There was so much to see and do at Kids' Weekend and so much of it was free to enjoy. We made bookmarks and fans, and wandered through the food tent; and realised we could have easily spent the better part of a day here.
Tips for enjoying yourself at Adelaide Writers' Week Kids' Weekend
❤️I wish we had been better organised and gone earlier and booked in for a few more workshops. We didn't get to the Story Tent or face painting … so maybe next year.
❤️Allow plenty of time – there seemed to be a lot of workshops that you could only book in for on the day.
❤️There are plenty of books which you may be tempted to buy – if you think you might need to stock up on some reading material then you might want to bring a bag.
Find out more about Nest Studio here
Read more about the Adelaide Writers' Week Kids' Weekend here
You can find out more about Evelyn Roth's Nylon Zoo here.
This review was published on Play & Go Adelaide and you can see it here. All images are by Susannah Marks.