Review by Susannah Marks 16 March 2017
March 16, 2017
Once again Botanic Park transformed into a magical world of music and dance over the March long weekend as it played host to WOMADelaide, now in its 25th year. WOMADelaide is a fantastic four-day festival with something for everyone. This year there were eight separate stages and as usual a diverse and spectacular line-up.
WOMAD with the kids

One of the great things about WOMADelaide is that entry is free for children 12 and under. Also there are always some wonderful activities and performances designed specifically with children and families in mind and they are completely free.
WOMAD offers festival goers a diverse and rich array of performances and experiences – and the music is just as awe-inspiring for young ears as it is for old.
Whether it was from an elevated vantage point from up a tree or in the midst of the crowd dancing this is what WOMAD is all about and seeing the kids embracing the atmosphere and music was food for the soul!
Rain
There was plenty of it and we were happy that we came prepared with raincoats and gumboots, and a lightweight tarpaulin to throw over chairs for when the sun came out and the seats were still a bit wet.
We certainly had four seasons in one day at this year's WOMADelaide and while the rain did present some logistical challenges, it was a novelty and an adventure for our kids to get decked out in their raincoats and gumboots.
It was also very atmospheric. We were listening to a story inside an inflatable panda from Nylon Zoo at KidZone as the rain was pelting down and it was a cosy experience!
Food
With over 50 food stalls to choose from we were spoilt for choice. From okonomiyaki (Japanese pancake) to crispy chicken and Thai green papaya salad to Yemeni spinach and feta pancakes we ate our way around the world.
When the sun came out we treated ourselves to delicious ice blocks at the fabulous Popsi Cool stand. At $5 a pop (no pun intended) they're not cheap but the flavours really pop in your mouth. We have tried the choc banana, the mango and the strawberry-basil and they're all winners. Oh and they're made here in SA. You can check them out on Facebook.
The Uni SA T bar had delicious turmeric lattes which were a great way to warm little hands, and tummies. There was also a free phone charging station there and deck chairs to lounge around in while you enjoyed your drinks.
A new addition this year was Poh's Jamface where you could indulge in a six course degustation amongst the WOMADelaide ambience.
KidZone
KidZone is WOMADelaide's dedicated world of kid-friendly fun. With full days of programmed entertainment it's a relaxed place for families with children to hang out.
Nature Village
The Nature Village kept our little people busy for ages. They explored making sounds with giant hanging "xylophones" and other sound-making devices, and making cubbies inside the little thatched huts.
Circus equipment
Another highlight was being able to borrow the circus equipment at Psycus just near the entrance to KidZone.
Retail therapy
With an eclectic range of stalls, WOMADelaide offered plenty of opportunities for retail therapy whether you were after WOMADelaide merchandise or products made by local designers.
Our kids were particularly taken by the WozWaste stand which was selling repurposed household items e.g. toothbrushes turned into bangles, and toothpaste tubes turned into toiletry bags.
Tips for enjoying WOMADelaide with kids
❤️ WOMADelaide is a busy festival often reaching the park's capacity of 25,000 people. During the day it has a beautiful family-friendly vibe about it and even into the night many families are still around. However WOMADelaide at night is dark and busy and has much more of a party vibe. Families may want to consider heading off once it gets into the evening.
❤️ Children under the age of 12 get in for free, however, to make the most of the price-tag on adult tickets we recommend you enjoy WOMADelaide best with a combination of family time plus as some kid-free festival fun once the sun sets (if you can get a babysitter for the night).
❤️ We saw a few families with cart-a-lot wagons filled with their supplies for the day.
❤️ WOMADelaide is an all weather event so it pays to be prepared.
❤️ Some of the music is pretty loud. Our kids were fine with the volume but you may want to invest in a pair of baby earmuffs to keep tiny ears safe.
Cuteness alert!
WOMADelaide without the kids
So you've packed the kids off to the grandparents' or engaged the services of a friend or a babysitter. Now what?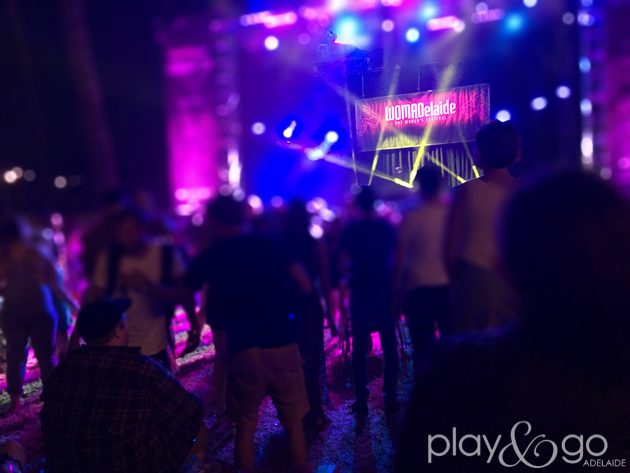 Factor in some chill out time
The big acts are always on late and play well into the night with so much energy and festival atmosphere… We've found it useful to have some 'chill out time' under a tree to replenish the energy levels – the big concerts were worth staying up late for!
Leave some room for delicious food offerings at the Global Village
The Global Village is always bursting with amazing cuisines from various food trucks and restaurant stalls. Gone are the days when 'festival food' meant a baked potato with questionable salad on top.
Carabosse
One of the after-dark highlights at this year's WOMADelaide was Carabosse, best described as atmospheric experiential theatre.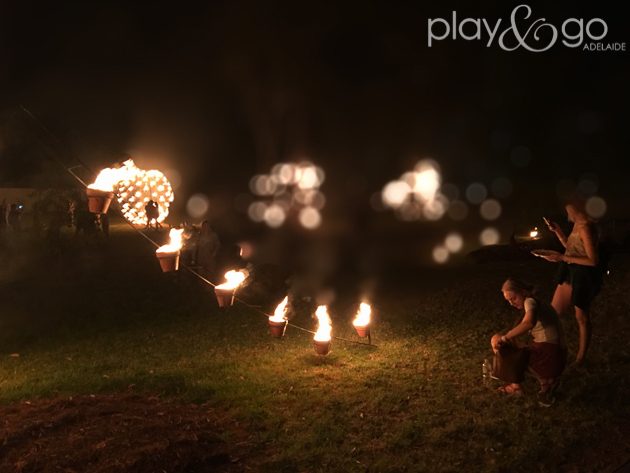 Party into the wee hours at the Novatech stage
The Novatech stage was the place to be after the big concerts had finished. The middle of the forest was turned into a world class club with DJs and live music played each night. The perfect place to continue the festival into the wee hours (if your feet could handle any more dancing!)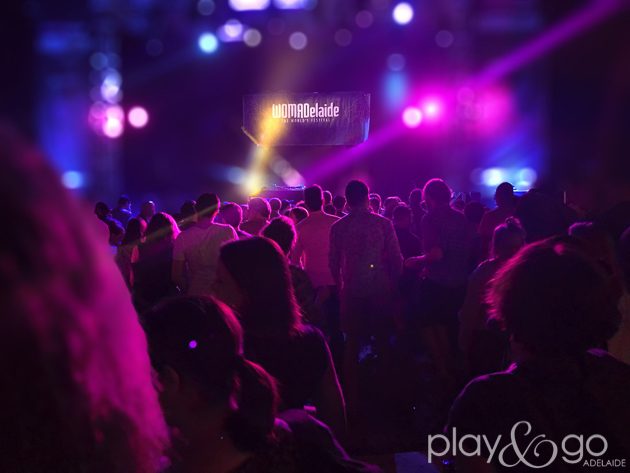 Top tips for enjoying future WOMADelaide festivals:
Wristbands
There are children's wristbands available at the entrance, and you could write your mobile phone number on them – just in case.
Go for shade
If you're spending the whole day at WOMAD get a shady spot under a tree as soon as you get there. Many people safely leave picnic blankets, eskies etc at a central spot for them to come back to for some rest and refuelling. Shady spots are like gold in the hot midday sun so stake one out while you can! It's also a good base for the kids to know where to return if they go wandering to climb a tree or you are going backwards and forwards from getting food or seeing different acts.
Seating
There was priority seating at some of the stages – e.g. for wheelchair users or parents nursing infants.
Cash
Get cash out before you arrive – there are ATMs available but there maybe queues at busy times.
Water
There are drinking water re-filling stations if you need to fill up your water bottle.
Get there early
Make the most of your day/night pass by getting there early! The hours seem to fly by quickly at WOMAD, especially if you fit in some relaxing, drinking, eating, tree climbing, KidZone activities and line-ups in between seeing artists.A
This review was originally published on Play & Go Adelaide, and as per all Play & Go reviews, is not a sponsored post and is done completely independently. All photos are by Susannah Marks.